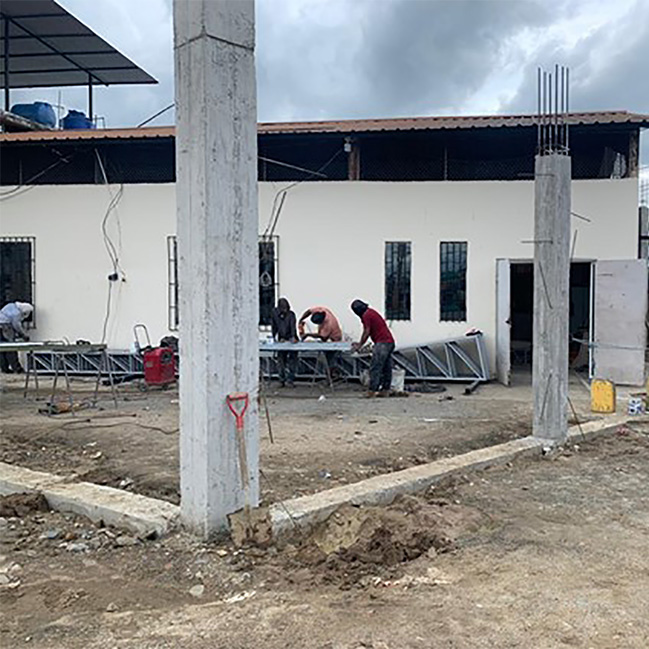 Greetings, Pantano Christian Church! The church plant that you support in El Oro, Ecuador is making steady construction progress. This update contains recent photos and a summary of the construction status. Currently, 150 adults and 100 children are attending the church! The church team reports that they feel the grace of God surrounding them. We are grateful for your partnership and hope that you enjoy this update.
Construction Progress
Completed areas include bathrooms, two classrooms and the kitchen. The construction of the multipurpose room is still in process.
Next Steps
Within the next 60 days, the church plans to:
Complete the multipurpose room.
Continue mobilizing resources to build two more classrooms to serve the number of children attending the center.
Challenges and Learning Opportunities
Although the church has found it challenging to complete work according to the initial schedule, they are making consistent progress. They have also raised extra resources to cover expenses that were not budgeted. The volunteers are learning how to collaborate as a team and becoming friends.
Recent Church Activities
The church shared that they are seeking more of God's presence and members of the church are growing spiritually. They hold times of fasting and prayer, vigils and Bible studies. The church has baptized 250 people and more than 300 people have made a profession of faith.
The pastor is actively involved in all aspects of the church plant. He has led several community meetings to ask for their support for the construction. Recent activities include:
Mingas (voluntary community work days) with parents of beneficiaries and with the community. The church provides lunch to all who help.
Fundraising events such as barbecues and desserts sales.
Testimony of Impact
The church sees God's power at work in their community. Men who were drug addicts, gang members and criminals, are converting to Christ and serving the church.
Thanksgiving and Prayer Requests
The church is very grateful for your support! They also express thanks for their faithful church members and the parents of the beneficiaries — many of them have contributed to the construction project. The church asks that you join them in prayer for the following:
That God continues to bless all of those who invested in this church plant.
For the parents of the beneficiaries to draw closer to Christ.
That God strengthens the church in this very difficult time during the pandemic.
For the growth and commitment of the leadership team.
For the well-being and health of the parents of the beneficiaries and the child development center staff.
For the sponsors of children who attend the project.