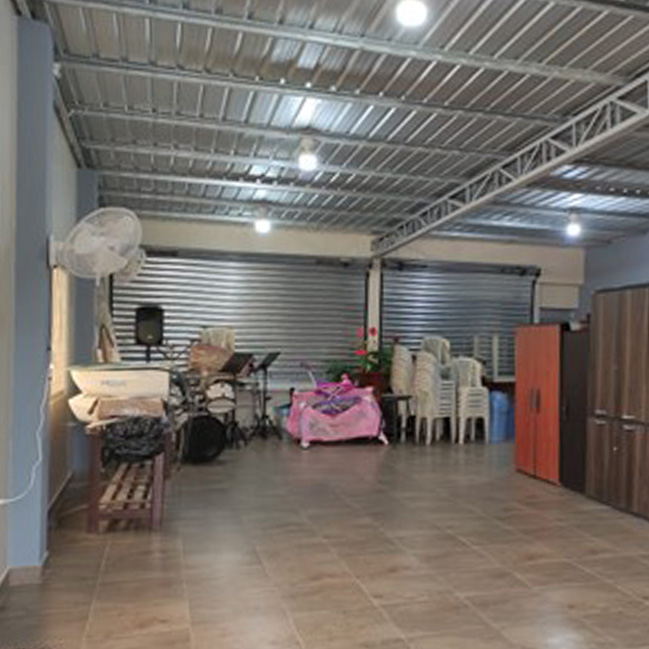 Greetings, Pantano Christian Church! Thank you for your gift to plant a church in Ecuador. Church staff are thankful for you and your support and pray regularly for your protection. Children at this facility will be impacted for years to come as they experience the tangible love of Christ through the care and direction of trained staff members. In the photo above, the kitchen is shown in its current state. Kitchen construction is nearly finished.
This report includes updates on construction progress and church activities, a testimony from a church leader and praises and prayer requests.
Construction Progress
Great progress is being made on construction. The sanctuary and two classrooms are being built while the bathrooms and kitchen are nearly complete. The church thanks God that they have been able to continue construction through the pandemic. They believe God has been with them and has helped them to not give up.
Challenges and Opportunities
The church recently had the opportunity to meet more caregivers and community members when they visited homes and shared the gospel. They have also learned that when they work as a team with a vision, they are capable of achieving their goals with God's help.
Next Steps
Next, construction workers will finish painting the walls and will build the door to the main sanctuary entrance. They will also work on the front of the church.
Church Activities
Currently, 150 adults and 100 children are participating in church activities. Staff rejoice that in the past 60 days, 300 people have professed faith in Jesus!
The church has increased evangelism efforts and has reached more families. Many people in the community now come to church services.
The pastor continues to monitor construction progress, purchase construction materials and follow up with suppliers to make sure materials arrive on time.
A Testimony From Yolanda, a Church Leader
"I feel happy to see that our church is progressing every day. Now we can welcome more people into the new facilities and let God help each one of them. Despite the pandemic, God has been very good to us. His infinite love and mercy continue to work in our lives so that many more people can be reached."
Praises and Prayer Requests
The church praises God for his favor, for supporters like you and for Compassion International. They thank God for the children and their parents who are part of the church and for good church leaders. They are grateful for community members who have volunteered their time and energy to help with construction. 
The church asks you to join them in praying for the following:
Pray for the Lord to protect and care for all the beneficiaries so that they would always be on the path to the kingdom of God.
Pray for the church leaders to have a strong vision and to yield to the will of God.
Pray that those who sponsor children would never lose their desire to help those most in need.