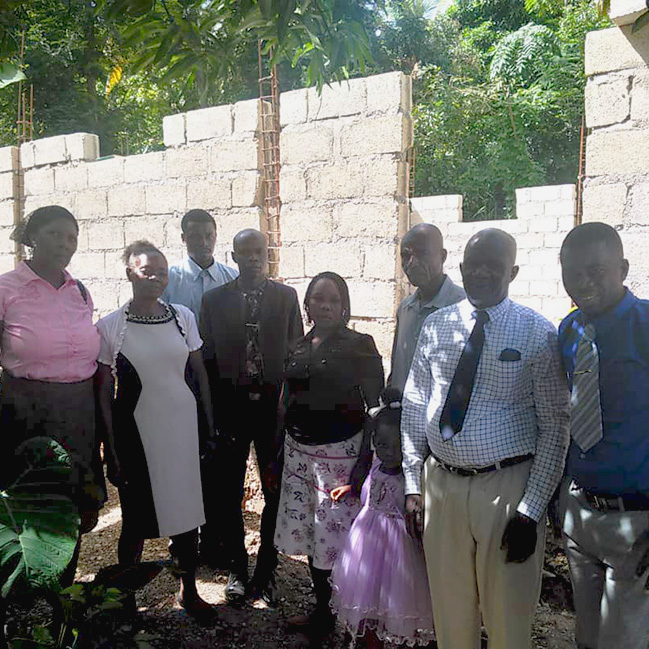 Greetings, Reality Church of Stockton! Thank you for your gift to support pastors and church staff in Haiti during COVID-19. Currently, 1,770 families across 354 frontline church partners in remote areas of the country are benefiting from the funds you provided. In the photo above, church staff at HA0935 gather to express their gratitude to you. They are standing in front of a classroom construction site, a project supported by a portion of the funds they received. 
This report includes an update on the impact of the intervention, a testimony from a project director and interviews with two of the people who benefited from your gift. 
Impact of the Intervention
Church partners in Haiti suffered adverse economic impacts when businesses, schools and churches were shut down due to the COVID-19 pandemic. Tithes, offerings and school fees were no longer collected, leaving many pastors, church staff and their families with unmet basic needs and the inability to adequately assist those facing difficulties in their communities.
Because of your support, 1,770 pastors and church staff received disaster relief funds by July of 2020. These funds helped them to put food on the table for their families and allowed them to purchase other necessities like life-sustaining medications. They also used the funds to pay for phone minutes and internet to help them stay connected with their congregations. During the pandemic, pastors streamed video of church services to Facebook and posted videos of the sermons to WhatsApp. A portion of the funds was also used to help churches proceed with interventions that started before the pandemic. Many church leaders also shared the funds they received with those who were neediest in their communities.
A Testimony From Wifranne, the Project Director at HA0923
"The economic hardship has been very real. I was unable to feed my family, but when we received disaster relief funds, I purchased food and other necessities for my family and shared with others too. Compassion has blessed us greatly through this intervention."
An Interview With Guérin, the Pastor of HA0923
How have the lives of beneficiaries been changed since the intervention's completion?
Hundreds of church staff in Haiti have now received funds, including pastors in remote areas where the economic effects of the pandemic have been severe. With the money they received, they purchased food, medication and other necessities.
How has this intervention benefitted the church?
The funds we received helped church staff pay for internet, enabling them to connect with other believers during the pandemic. They used Facebook and WhatsApp to share sermons with their congregations.
How has this intervention affected your ability to minister to beneficiaries?
In the past, we used to meet face-to-face at the church, but now we have virtual options too, including Zoom.
What would you like to say to those who provided the financial support for this intervention?
The church sends our deepest gratitude to all who have supported this intervention. Thanks to you, we continue to serve children and families in our community.
An Interview With Prisca, a Beneficiary of Your Gift
What was your life like before the intervention was implemented?
During COVID-19, my family was terrified of getting sick with coronavirus, especially since our hospitals are not well equipped. Financially, we were also very limited. Having to stay home and not earn money makes it difficult to care for your family.
How has your life changed now that this intervention is complete?
I can now feed my family and seek to help others in my community. This intervention has filled everyone in my family with joy.
What lessons have you learned from this intervention?
This intervention taught me to help others who are in need and to work hard for the development of my community. I also learned that God can provide in any situation.
What would you like to say to those who provided the financial support for this intervention?
From the bottom of my heart, I want to thank Compassion International and everyone who contributed for what you have done in my community. Thank you for this special gift.