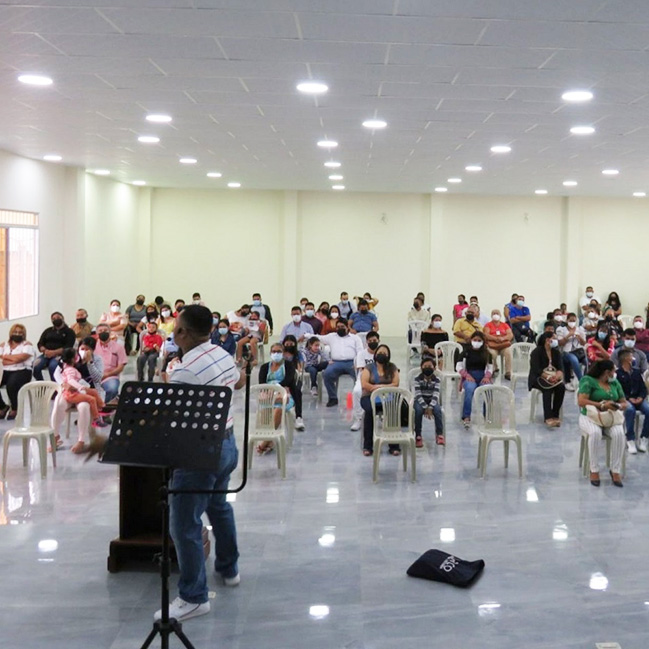 Thank you, Pantano Christian Church! Your gift to plant Iglesia Cristiana Verbo de Guabo in Ecuador is currently impacting 787 children and their families. These families now have a safe space to go where they can learn, grow and develop and where they are encouraged in their faith. In the photo above, beneficiaries, caregivers and community members attend a church service on Sunday morning.
This report includes updates on the implementation and impact of this intervention, interviews with a church leader and a beneficiary, and photos of the implementation process.
Implementation Process
The church successfully implemented this intervention and accomplished the following:
Funds were received and used to plant Iglesia Cristiana Verbo de Guabo.
Church members cleared and prepared the land for construction.
The church hired construction workers in October of 2020.
Construction plans were approved in November of 2020.
Construction materials were purchased.
Construction workers built the classrooms and bathrooms first. Then, they built the sanctuary, kitchen and dining room.
The interior work was completed, including installation of tile floors, windows, iron protectors, doors, plumbing and electricity. Walls were plastered and painted.
Lessons Learned
The church faced many challenges, including high costs of materials, material shortages, delays due to national health and safety standards and the diagnosis of their pastor with COVID-19. Church leaders shared that the difficulties they faced taught them how to persevere toward their vision, that God's faithfulness is supreme, that God doesn't make mistakes and that God's timing is best.
Impact of the Intervention
This intervention has provided a safe place where 787 children will receive holistic care. In addition, the church has been able to reach many adults in the community. The completed facilities include a sanctuary, two classrooms, a kitchen, a dining room, and bathrooms with toilets, sinks and showers.
In August of 2021, the church began meeting with caregivers in small groups. They taught the children good hygiene habits and proper use of the church facilities. Although not all children have had the opportunity to use the new facilities due to the pandemic, the children who have share that they feel better served with the new infrastructure. This community has come to see that God is with them, even when they are struggling with finances or health.
A Testimony From the Pastor
"I believe God has perfectly moved in the hearts of all donors at the right time. Because of their support, we have a beautiful facility where we can serve our community and the beneficiaries."
An Interview With Sandra, a Church Leader
How have the lives of the affected beneficiaries been changed since the intervention's completion?
Every child has the right to be treated with dignity. We are grateful they can attend church in a pleasant environment surrounded by people who care for them.
How has this intervention affected your ability to minister to the beneficiaries?
This intervention has demonstrated that nothing is impossible for God. As God's children, we must know how to wait on his timing.
An Interview With Jandry, a Beneficiary
What will this change mean for your future or the future of your family?
We are going to reach many more families now that the church facilities are so welcoming. I have seen people in the community impacted who are slowly starting to come to church.
What lessons have you learned from this intervention?
I have learned that despite the difficult times we live in, God will never abandon us. His faithfulness has always been with his children and he has blessed us in many ways. I am very grateful for that!
What would you like to say to those who provided the financial support for this intervention?
You have blessed many families in my community with a more dignified place to congregate and praise the name of God. Thank you very much for all your help!
Thank You for Your Support
Thank you for partnering with Compassion International to release children from poverty in Jesus' name. Your support is forging a path for children to receive the holistic care they need to reach their full potential. May God bless you abundantly!